Furship Memorial Gardens
These pages are dedicated to Members and Special Furriends, who have crossed over the Rainbow Bridge.
~~~~~~~~~~~~~~~~~~~~~~~~~~~~
We hope you'll stop and purr for a moment and then visit our dear departed furriends.
~~~~~~~~~~~~~~~~~~~~~~~~~~~~
Over The Rainbow Remembrances
in Alphabetical Order
Furship Members
Keedie
Madam Troublinski
Queek
Shadow
Tiger Magnificat - April 2005
~~~~~~~~~~~~~~~~~~~~~~~~~~~~
Friends and Family of Furship
in Alphabetical Order
Baby Cat
Bubba and Jazzy Taylor
Cynnameon
MGD
Shibui
Sylvesta
Click on a name to visit their remembrance.

View My Guestbook
Sign My Guestbook

~~~~~~~~~~~~~~~~~~~~~~~~~~~~
Remembrance
We may have passed with a glance,
We may have not spoken by chance,
Another day hours we mewed for naught,
or in a moment passed one sweet thought,
in my heart I'll remember your special soul,
who left a light in my heart and soul,
missing you all in friendship and furship,
furever!
By Mysty
~~~~~~~~~~~~~~~~~~~~~~~~~~~~
If you would like to remember a former member or a family member of one, please send your gifts through E-Mail to Mysty.

If a gift was at our Old site and has not been put here yet, please advise Mysty also. If a member is not remembered here to, please let us know also.
~~~~~~~~~~~~~~~~~~~~~~~~~~~~
Members if you have or find any graphics that would go on these dedication pages, please send to Mysty. Chapels, benches, garden type graphics and any offerings for our remembrances. Send in any dedication purrs also.
The fountain of tears wells for our departed friends!
---
We are so proud to have received Dusty's award!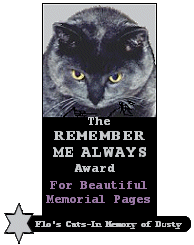 Dusty was member, Levi's sibling, and a past member of Furship!
Unsure of the page you want?
The Site Map is at
the Furship Front Desk.
~~~~~~~~~~~~~~~
Memorial pages
The North Garden, Ren and Estralla
The South Rainbow Walk East, Tang
The South Rainbow Walk West, Snowpuff and Keedie
Butterfly Garden East, Sasha
---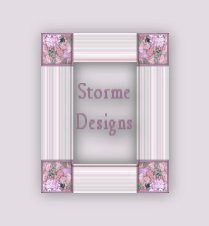 All on this page belongs to Storme Designs and Furship, please do not copy the graphics or poem..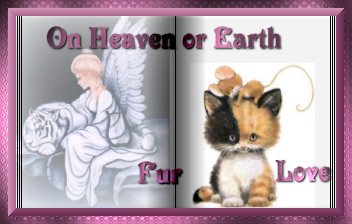 This page was edited on June 11, 2008.