Frame on Fire Tutorial
by Storme Designs
Storme Millennium Graphics Platform




There are many animation tutorials and many text ones using fire.
This one may be copied and shared, as long as it's kept intact with the name and link.

You will need any picture of your choice, PSP with the animation shop, eye candy
or fire tubes - one is attached.

Choose any picture you want to frame. I chose my cat. The size is up to you.
I kept mine small about 140 by 130.
Next you are going to add a border choosing the color of your choice.
I chose a dark blue. I set my border symmetrically for 30.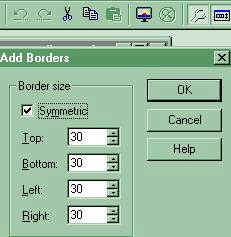 Once applied I used eye candy and bevelled. First, Select your
border with your magic wand, then bevel.
You can use inner bevel or button as you choose, or leave it plain.
Deselect and Save this image in psp format.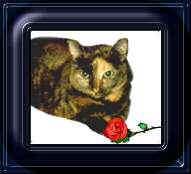 Go to Edit and click on the first line - Undo Select none.
Your picture will be selected as before.
Next you can use Eye Candy Fire Effect or apply fire tubes or both.
Open eye candy, select flicker and choose your settings for an initial small fire.
My selection is below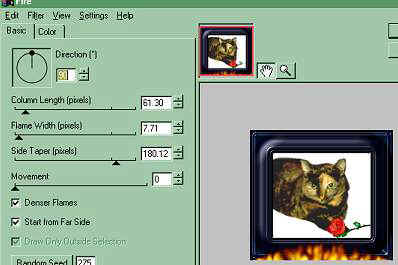 Now deselect and save the image in psp form as image2.
Go to edit again and undo select none.
Click on Eye Candy Fire again and make your flame wider
and higher, deselect and save.
Go to Edit again and undo select none.
Repeat this once more with a higher flame. Deselect and save.
Go to Edit again and undo select none.
Now I applied a fire tube on the sides to make my fire full and higher.
You can also use a fire tube from the start and add more instead of eye candy fire
to increase your fire. I even added eye candy fire once again to put a
little fire into my picture. Don't forget to deselect and save your picture adding
a number or a different title each time.



Now launch animation ship from your PSP program.
Click on the Wizard, and this box should open.


Click same size as image, then next at the bottom.
When the next window opens click transparent, then next again.
In this window click centered in frame and with the canvas color and click next.
In the next window click yes, repeat the animation indefinitely and display
frames for 25 seconds. You can choose a shorter or longer length.
Click Next. Now you add your images in the next window.
Click add images and open your first plain bordered image,
then add the low flame one, the higher flame one, and the full flame one etc.
When done click next. When the next window opens click on Finish.
When done your animation framed picture will show as below.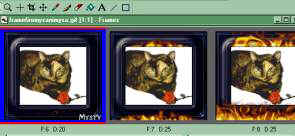 You can now click on View, Animation and see if this is the desired result.
If not you can redo, as desired.
If done, close the viewing selection and save the framed animation
as a gif and you're done.

If you would like to add text to your image, like your name.
Select effects in your animation shop and choose apply text effect. I set it as below.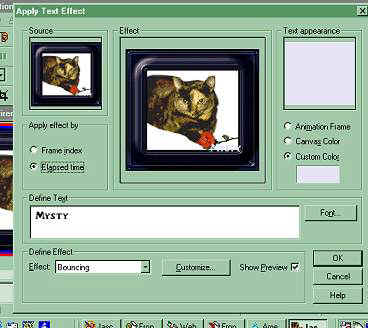 I used bouncing and clicked on customize and set it slower.
You can choose whichever effect you like.
Click apply and you're done. Save the new animation with a different name,
if you want to save it with and without the name.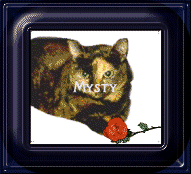 Hope you enjoyed this!
Happy PSPing!

~~~~~~~~~~~~~~~~~~~~~~~~~~~~~~~~

If you have any questions, feel free to send E-Mail

~~~~~~~~~~~~~~~~~~~~~~~~~~~~~~~~

If you share this tutorial or use the picture, please provide a link back to

Check our main Tutorial page for new listings at Storme Millennium Tutorials.

~~~~~~~~~~~~~~~~~~~~~~~~~~~~~~~~

This was created with PSP 7 ~ download a trial version.
~~~~~~~~~~~~~~~~~~~~~~~~~~~~~~~~

[Links][Care][Help][Parlor][Storme Central] [Millennium] [Storme II][Den][Yard][cards and services]

[Garden][MadCat][Patriotic Porch][Study] [Patch] [Attic] [Ring] [Vacation] [Furship] [Add link]

[Designs] [Adoptions] [Halloween][Birthday] [Loft] [Snow] [Game][Island] [Hostess]

[Banners] [Graphics] [Lists][Award] [Library] [Shelf][Tutorials]

[GraphicII][Postcards][Fireworks][Cat][Island2]][Index][Loft2]

~~~~~~~~~~~~~~~~~~~~~~~~~~~~~~~~

This page was refired on January 2, 2004.

Our page was framed through Tripod.